Working in Homeoffice - A Retrospective
Due to the current restrictions of COVID-19, all Netresearch employees have been working from home since mid-March. Homeoffice, depending on their life situation, this term is either a reward or a punishment. Working from home, without control and commuting. Sitting comfortably at your home desk and participating in meetings via video conferencing. Or all-day childcare, with no chance of working effectively.
The current situation requires ingenuity and framework conditions not only from the employees but also from the companies. How can everyone participate in meetings or access internal resources, if possible as usual? How do you coordinate or control the next steps? To demonstrate what everyday life at Netresearch looks like, I will give you an insight into how I can carry out my work in my home office on a daily basis and what new challenges I have to face, even in a childless household.
My daily work routine in the homeoffice
In the morning, instead of making my sandwiches for work, I can take them to my temporary workplace and eat them there. I can also save myself the trip to work and start a little earlier. Then you will be finished earlier as well.
Thanks to the provision of laptops with docking stations and the permission to take home further equipment, the dining table is now equipped the same way as my table in the office and parties will probably not take place in the next few weeks anyway.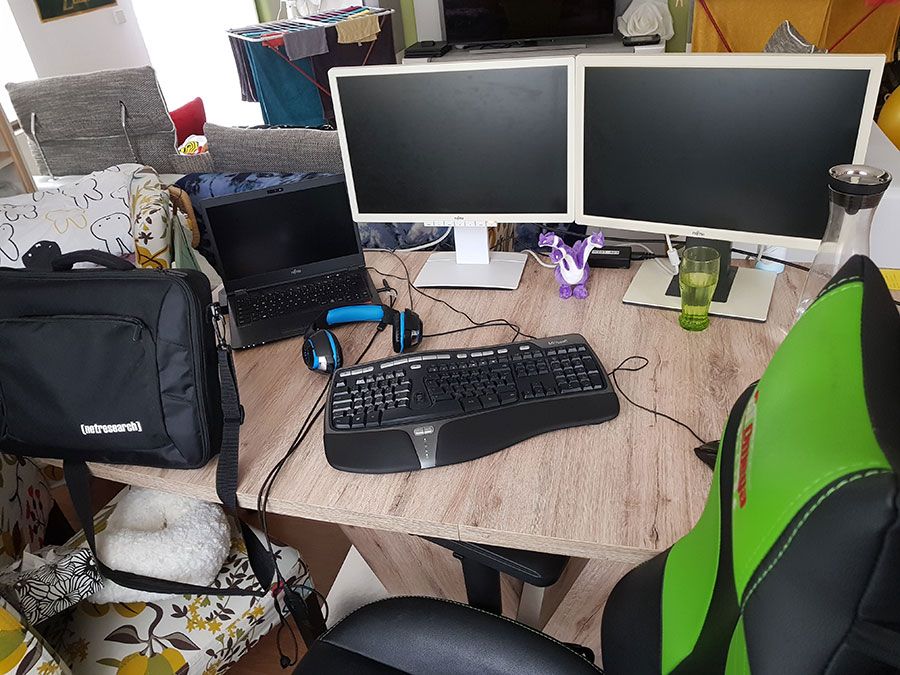 In order to be able to have some small talk with colleagues at the "coffee machine", we use a "virtual kitchen" in Google Meet, where we can meet daily to exchange news of the last day. Also our normal meetings like standup, retrospectives, reviews and so on are easily possible.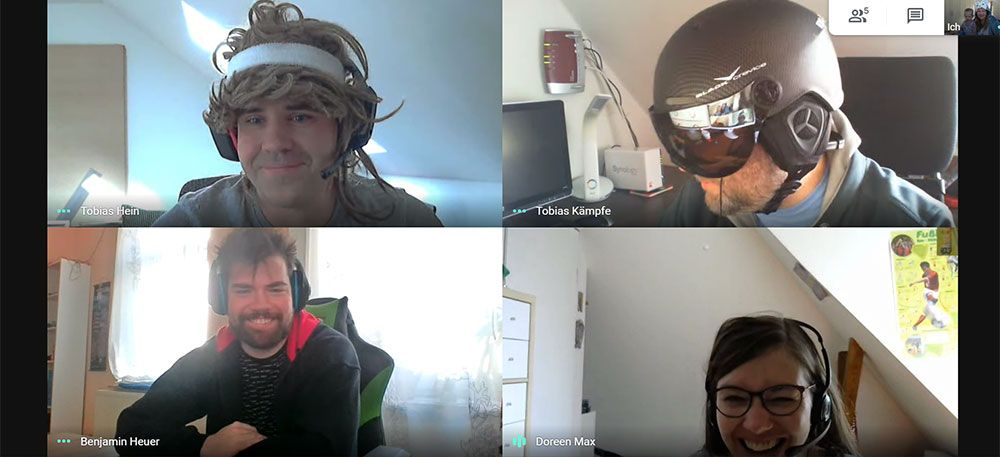 I can take care of smaller agreements with my colleagues in our chat client Riot and thanks to the VPN connection set up I can also access internal resources without any problems. With tools such as Vault or Bitwarden our passwords are already accessible from everywhere and with our systems set up with Docker, an Internet connection is usually sufficient to be able to work as usual.
Nevertheless, all these tools also have their limits. It is easier and quicker to go to your colleagues to ask a "little" question than to sit in front of a monitor for hours and wait for the "he types...". In addition, you limit yourself more to the essentials during the conversation, since the colleague has taken extra time to come to a meeting. I think for such small things and interpersonal interactions, being together directly is more essential than one would have probably thought before this crisis. It is therefore certainly difficult to build up this collegial cohesion if you would really only work 100% from home.
Closing time?
After work is done, the work laptop can now rest and you can enjoy your free time. However, it often doesn't seem so, for example, if you only switch from the work computer to the private one. Only the browser windows differ :). Also turning off, without the bike path home, has sometimes become more difficult.
Do not forget exercise and drinking
What also needs more attention is exercise and drinking behaviour. Through "longer" sitting and "laziness" at home, these points should be integrated into everyday life. Get up briefly every two hours and stretch your spine and joints. For example, on my Smart Speaker I have set myself a reminder every hour, which reminds me to drink something. Ideally around 250ml per hour. With the elimination of the associations and the cycle path, the sport must now be done at home. At least three times a week I train with sitting balls, my own weight and music. And weekly also the endurance by rhythm games like Just Dance, Beat Saber or Ring Fit Adventure.
My conclusion about the homeoffice
This means that I at Netresearch can carry out my everyday work largely unchanged with the framework conditions that our IT has made possible and is constantly improving. The management, Human Resources and IT thought about this at a very early stage and created the best possible working environment for everyone. Nevertheless, I am looking forward to once again enjoying a different view together in the team office than in my free time. However, I believe that this time will also enable us to learn more about ourselves and to be more confident about how our everyday life should look in the future.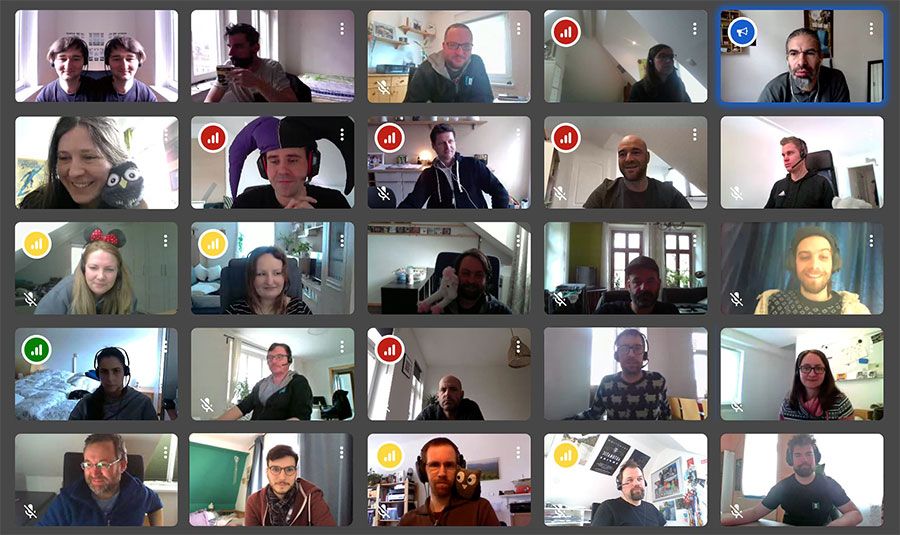 New Blogposts