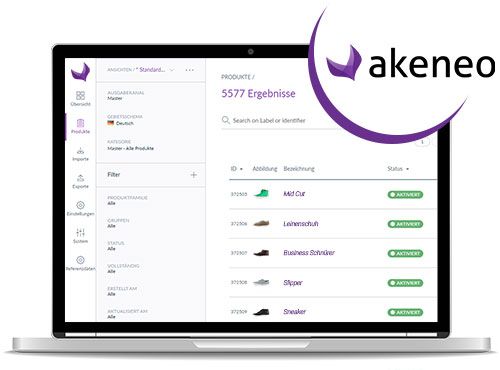 Modern product data management
Centralized, automated, smart
Product data is the heart of every online shop. Well-prepared, high-quality, current and comprehensive data has been proven to increase the conversion rate and reduce return rates. With the increasing number of products, sales channels and suppliers, professional product data management is becoming irreplaceable. We know useful tools, manage one-off and recurring imports from a wide variety of data sources and ensure automated data output into your sales channels.
Our services for
product data management
---
Consulting about your product data management
Data import (various data sources & formats)
Data standardization and structuring
Attribute management, indexing, etc.
Integration of various external data sources
Data output into different channels
Product information management (PIM)
for centralized data management
A product information management system, or PIM for short, allows you to manage product and catalog information in a central location and to route in into different channels. A PIM is often used as a supplement to ERP systems for efficient data maintenance and has numerous advantages.

Product data management in PIM:
Your advantages
---
Save time and money
All product-relevant data is maintained in just one system, which minimizes the effort for creating, processing and verifying the product data.
High quality product data
Central management leads to standardized product data maintenance and the reduction of maintenance errors. Outdated or differing data in channels are prevented.
Fewer returns
Up-to-date and complete product data reduce your return rates, because your customers are informed about your products as best they can before buying.
Short time to market
Accelerate the introduction and distribution of new products by only having to enter the product data once for all channels and quickly exporting it to all channels.
Omni-channel commerce
Maintain, control and distribute products in a central system for various customer groups and channels.
Internationalization
Prepare your product data in the PIM for internationalization and output the data with minimal effort via various channels relevant to your target country.
Akeneo PIM
Enterprise open-source
The product information management system Akeneo already helps 40,000 marketing teams worldwide with their product data management. Thanks to open-source technology, Akeneo is particularly flexible and regularly updated. It can easily be connected to various systems and thus fits perfectly into the processing cycle of your product data.
---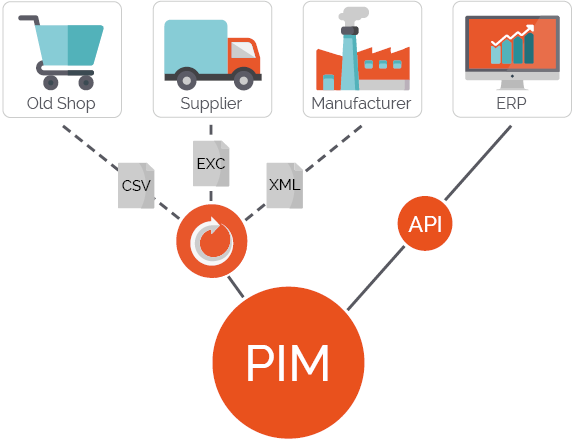 Professional product data import
Various data sources and formats
Every business sells different articles and gets its product data from different data sources. In daily business, the data can come in various formats directly from the supplier or from your own ERP system. In addition, when changing to a new and modern PIM like Akeneo, it may be necessary to import product data from the previous outdated PIM or online shop.
We ensure that the data is imported from this wide variety of sources in the correct format and, if necessary, updated at regular intervals via an API.
---
Intelligent data management
Automated product data enrichment
The available product data is often insufficiently maintained for use by the customer and has to be painstakingly corrected. We develop solutions that automatically enrich the data using individual logics. For example, we already developed a keyword-category assignment.
Here, product data with existing keywords such as "sneakers" are automatically assigned to the appropriate product category "shoes". This saves time and reduces the error rate when creating and importing new products into the PIM.
---
Managing media and digital data
DAM and MAM
In addition to product data such as name, description or article number, there is also digital and media data assigned to products. These include product images, videos and audio files. These data are not managed in the PIM, but in a so-called digital asset management system (DAM).
In the media context, these systems are also referred to as media asset management (MAM). If you work a lot with digital and media content, the use of such a system is recommended to store and process the media centrally for all channels. We would be happy to advise you.
Professional product data
managment - we handle it!
Your product data is spread across different systems and departments? Changes and updates to your data take far too long, errors occur again and again, and the return rates increases? We help you to set up professional product data management and are happy to advise you on individual and modern solutions for your business.