Netresearch at the Shopware Partner Day 2020
The Shopware Partner Day 2020 took place in Ahaus, Germany on January 23, 2020. Selected agencies, dealers, technology partners and hosting specialists met to exchange ideas about Shopware 6.
Our summary so far
Shopware 6 - More flexibility. Less complexity. One technology.
The idea is absolutely convincing. Admittedly, in version 6.1 not everything is optimal and there is still a lot to be done. The roadmap is laid out and Shopware is on the right track.
We are happy to join them.

The entire Shopware community is open, knowledgeable, ready to talk and committed.
We'll definitely see you at Shopware Community Day 2020 in Duisburg!

Netresearch is already working on the first Shopware 6 plugin projects together with Deutsche Post.

Netresearch is a Solution Partner and available with certified Shopware 6 developers for e-commerce projects with Shopware 6.
---
Now let's start from the beginning ...
Netresearch live on site
Netresearch was on site as a Shopware Solution Partner with managing director Thomas Wilhelm and e-commerce expert Tobias Kämpfe.
At the event, we not only spoke to the Shopware board members but also to our partner manager, the product managers and cooperation partners as well as long-term customers. The participants came from Germany, the Netherlands, Belgium, Austria, Switzerland, Spain and Croatia. This clearly underlines the increasing importance of the company in Europe. We also ran into well-known people from the Magento community. Like us, they were open towards alternative, modern and feasible solutions for their clients.

Keynote
10:30 am - the Shopware Directors of Sales Stefan Zessel and Herbert Lefering started the day and warmly welcomed the more than 650 participants. Sebastian Hamann started a two-part keynote with all kinds of news and information on the strategic direction in the coming years. Among other things, it dealt with efforts in new markets and segments, the company's future cloud offerings and an update to the current roadmap for Shopware 6.
At the request of Shopware, further details on the individual topics are for now reserved exclusively for partners and not (yet) intended for the general public. Official announcements on the individual items are expected for Shopware Community Day 2020. We're looking forward to it!
Roadmap
A constantly updated, detailed development roadmap is now available in the partner portal. This was one of the many announcements of this day and certainly a good and indispensable means of information to be able to manage the expectations of customers. We hope that Shopware will be able to keep this ambitious roadmap, but we are also excited because the queue is full of features that will be of great use for future e-commerce strategies.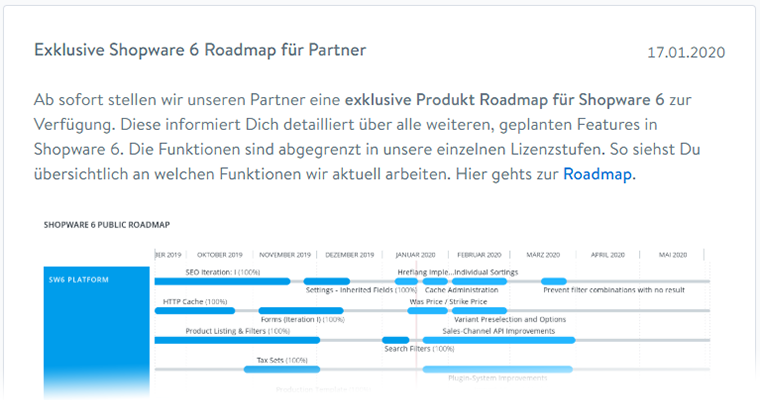 Shopware – one community
At the Partner Day and the after-show party, we found a community that was open, informative and willing to talk. Everyone shared their enthusiasm for the product, their commitment, positive experiences and hopes very openly, but also did not hold back with criticism and concerns. We value this open communication culture very much and so far have also had the feeling that Shopware is listening in detail and with genuine interest.
This applies to the entire Shopware team and the contacts in the Experience Trail who were available on site for live demos and questions about Shopware 6.
In particular, this also applies to board members Stefan and Sebastian Hamann. As part of SPD_2020, we also had the opportunity to discuss specific sales and business ideas around potential Shopware 6 projects with Stefan for about an hour. We intend to deepen this cooperation in the near future. Again, thank you very much for your time, Stefan!
The venue for the Partner Day was the impressive Tobit campus in Ahaus, Germany. Just under 18 km from the Shopware headquarters in Schöpping, this is a location with a great Shopware history, as Sebastian emphasized in his keynote. The previous Shopware Community Days have taken place here year after year since 2011, before moving to the Duisburg-Nord Landscape Park in 2019 due to the steadily increasing number of participants and the better accessibility with the SCD event. It will be the same this year.
Save the date: 28 May 2020 - Shopware Community Day 2020.
See you in Duisburg, right?
Impressions from the Partner Day 2020
---
New Blogposts