We support the Leipzig Table Tennis Company Cup

The sports hall in the Brüderstraße Leipzig was supposed to become a mecca for table tennis fans on June 7th. Unfortunately, the Konsum Leipzig Table Tennis Company Cup this year has to be canceled due to the Corona crisis. Under the motto "we.smash.corona" you can still be there (imaginary) and support this sporting event!
Due to the current events surrounding the Corona virus, the 10th Konsum Leipzig Table Tennis Company Cup cannot take place in the usual form. This makes us very sad because last year we successfully started with 16 employees and were able to spend a wonderful day full of sports and competition. However, the health of everyone involved comes first, and so this year - like many other events - it was unfortunately canceled.
The Leipzig Table Tennis Company Cup still hopes for support and has launched the campaign "we.smash.corona" to allow the event to take place as usual next year. All sources of income are currently breaking down in event management. However, costs have risen and continue to do so. In order to be able to offer the event in the next few years, any kind of support is helpful.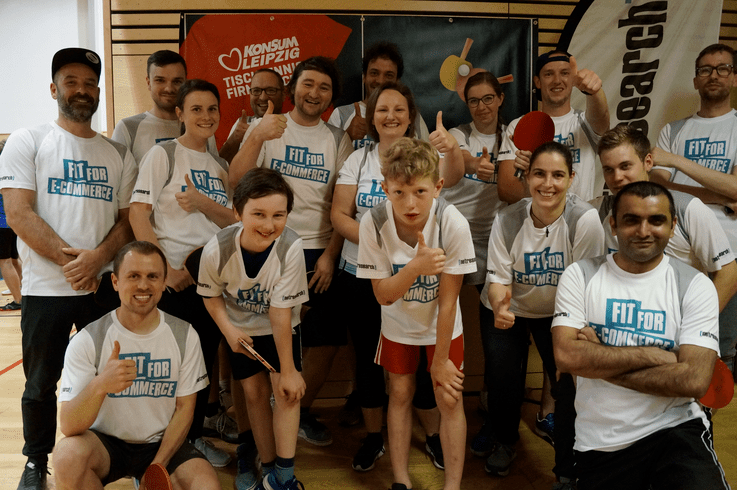 True to our mission "enable & connect", we would like to jointly tackle the virus and, together with the Leipzig Table Tennis Company Cup, will open imaginatively on June 7, 2020. In the past few years, the starting field has almost always been fully booked. Especially the 96 hobby fields were quickly taken and there was a long waiting list. Due to the limited size of the hall, more than 126 teams could never play. At the we.smash.corona Table Tennis Company Cup there are no limits and a new registration option.
Five starting positions for the Table Tennis Company Cup will be raffled among all participants next year. The more starting positions you buy, the greater the chance of winning. The company with the most registered teams wins the title "company with most participants" and the trophy of the special edition. The login variants are retained, but are expanded by one category.
We would like to thank the Konsum Leipzig Table Tennis Company Cup, to which we have already given our support and hope that many will join.
Find out more about our mission "enable & connect" and things we support here.
New Blogposts