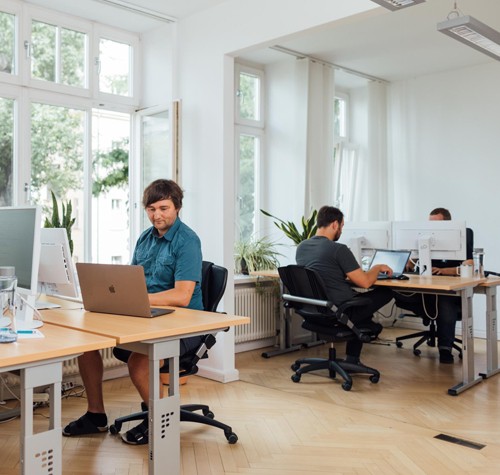 Build your B2B marketplace with OroMarketplace
For medium-sized companies & corporations with a concrete marketplace strategy.
Why more and more companies turn to B2B marketplaces
Maintain competitive advantage & expand e-commerce business
The marketplace is a relatively new sales model in B2B e-commerce. According to the Gartner report, however, 15% of companies with medium to high sales expectations will set up marketplaces in digital commerce. It is expected that by 2023 around 70% of B2B transactions will go through such marketplaces.
Learn now how you can use OroMarketplace to quickly build a B2B marketplace and not miss any sales opportunities!
Who is the OroMarketplace suitable for?
Ideal for manufacturers, distributors, and resellers
The marketplace software OroMarketplace is an improvement of the open-source solution OroCommerce by Oro. It is specifically designed for creating B2B marketplaces through which goods and services are sold. OroMarketplace is suitable for medium-sized companies and corporations that have a concrete strategy for building a marketplace for their own industry (or beyond) and who want to expand their own B2B shop by adding additional sellers or suppliers.
OroMarketplace includes a powerful B2B e-commerce system that handles the front-end website and the transactional components such as shopping cart, checkout, and self-service. Use OroMarketplace to organize pre-orders and bookings, handle quotation processes, and automate B2B workflows.
Your advantages:
Manage multiple store-fronts with flexible product catalogs
Order splitting & mixed shopping carts
Powerful workflow features
When choosing OroMarketplace, you get an integrated B2B-focused CRM (OroCRM) for improved lead management. This can also be used to onboard sellers and organize requests for quotations.
Your advantages:
Rule-based onboarding of sellers
Rule-based billing of sales fees
Self-service portal for customers
OroMarketplace connects to third-party systems thanks to multiple back-end and front-end APIs. This reduces costs and complexity and ensures a faster time to market.
Your advantages:
ERP interface
Connection to procurement software
PIM integration
Connects to BI software
Thanks to its flexibility, OroMarketplace can be used in a variety of marketplace scenarios, such as:
Platform for managing procurement & suppliers
Marketplace order management system (OMS)
Multi-vendor marketplace
Brand and company marketplaces
Netresearch integrates OroMarketplace into your complex system architecture
We realize your B2B marketplace project
As a Silver Solution Partner of Oro, we take over the system integration and configuration of OroCommerce and OroMarketplace, the individual programming of the back-end and front-end, as well as building interfaces to third-party systems such as ERP and PIM, as well as the integration into a grown system architecture.
Here's what our customers say
"We want to create a B2B marketplace that connects consumers, breweries, beverage suppliers and wholesalers. In Netresearch we have found a reliable partner at our side who makes this vision a reality with the help of the Open-Source Marketplace Management Platform OroMarketplace by Oro. We chose OroMarketplace because it already comes with numerous functions and features - such as management of multiple providers, mixed shopping carts, order splitting and commission accounting."

Dipl.-Wirtsch.-Inf. (FH) Steffen Patzschke, biermap24.de
---
Consult with our expert!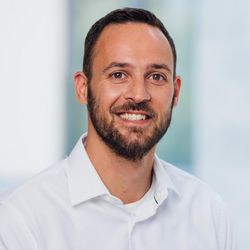 Sebastian Hähner
Your expert for OroCommerce & B2B commerce