Boredom? Not with us!
We celebrate parties as they come
New Year's party 2020
In 2020, we held a New Year's reception for employees, customers and partners for the first time - the Netresearch New Year's party with a fire bowl and mulled wine. It was a total success!
Christmas party 2019
Our office Christmas party is a highlight every year: In addition to a fantastic and varied Christmas buffet and a plentiful selection of drinks, there was also lots of entertainment.
Team event: Climbing & adventure golf
This year our team event took place in the climbing park Markkleeberg. In addition to a great climbing area, there is also an adventure golf course. A great day with the colleagues!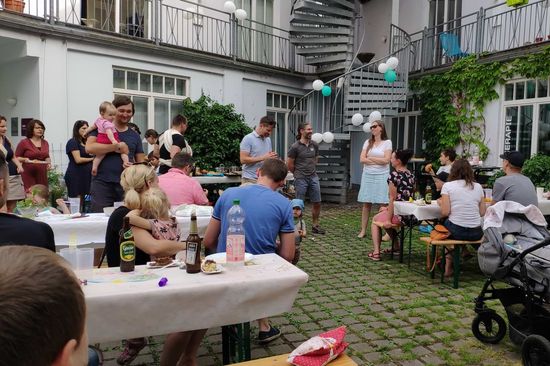 Summer festival with our families 2019
Every year we hold our popular summer festival, together with all our famiies - a barbecue and cool drinks are of course a must.
Breakfast together
On some days, a colleague spontaneously goes shopping and brings a large breakfast for everyone. Having breakfast together is the perfect way to start the day!
Leipzig Table Tennis Company Cup 2019
A total of eight Netresearch teams faced the challenge at this year's Table Tennis Company Cup. A great regional event that we are happy to support as a sponsor.
Deeply relaxed into the new year
The health of our employees is naturally close to our heart. As a special surprise at the beginning of the year, we therefore organized a mobile massage for the whole team.
Christmas Party 2018
The big Netresearch anniversary year came to a crowning conclusion with the great Christmas Party. A fantastic event with great colleagues, delicious dishes, a Christmas tree and lots of fun.
Advent calendar for everyone
An Advent calendar belongs to the time before Christmas - you can't be too old for that either. Therefore, a personalized calendar was available for each employee on 01.12.
Virtual Reality
We had a really great experience on our company outing to Fsociety, where we could immerse ourselves in the virtual world. Everyone was so enthusiastic that we bought VR glasses for our hobby room afterwards.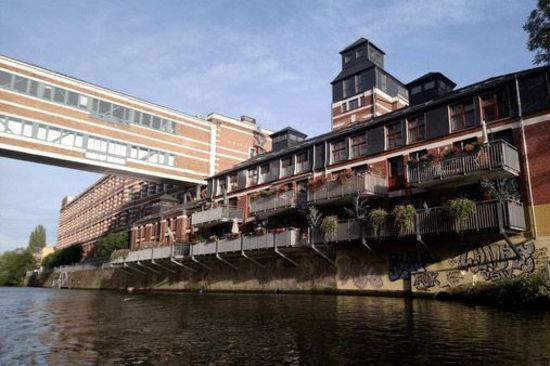 Boat trip through Leipzig
At this year's team event, everyone was able to explore their working environment from the water in a relaxed manner. Afterwards there was a barbecue party - a wonderful sunny day in autumn.
Internal gift raffle
On the occasion of our 20th anniversary we raffled off great gifts to our employees. These included MyDays and Jochen Schweizer experience vouchers as well as our Netresearch deck chairs. For all those who could not get hold of one of the main prize tickets, there was of course a small consolation prize.
Ice for everyone: Ice cream truck at our house
In summer it is hot and despite flexible working hours, a cooling off can't hurt. Just an ice cream in between - no problem. We got an ice-cream van for our colleagues and everybody could put together his favorite ice cream creation. Delicious!
Happy Birthday Netresearch
We served probably the most beautiful birthday cake in the world on the occasion of our 20th anniversary. The delicious photo cake with pictures of our Netresearch team was plastered in no time.
The big anniversary summer party 2018
Our big summer party on the occasion of our 20th company anniversary was a complete success. We thank all guests for coming. It was a great party!
City tour Leipzig
During the joint sightseeing tour of Leipzig, both new colleagues and die-hard Leipzigers learned something about the probably most beautiful city in Germany.
On vacation by message in a bottle
A surprise was waiting at the workplace: a message in a bottle with a poem. It said that every employee will have more vacation in the future. So to say, two vacation days were given to them by message in a bottle. Great!
Fresh bread rolls and jam
It's wonderful if you can start the day together in the morning with fresh rolls, yogurt, fruit, eggs and the obligatory coffee. Freshly strengthened for our customer projects!
Lunch - all together
The joint excursion to the Nepalese restaurant around the corner was a welcome change in everyday office life. Eating together connects.
Bowling
Sliding a quiet ball - that works best with the greatest colleagues in the world! In colorful teams we also strengthened the feeling of togetherness across departments and had a lot of fun.
Christmas Party 2017
At the Christmas party there was something special besides the obligatory mulled wine, buffet and lan games: We organized a photo competition with the specially developed mobile app "Cam-Fight". In small teams we competed against each other. The best photos were evaluated at the end via the app. The winners were happy about small presents..
Cross Deluxe
Mud, cold and meter-high walls to overcome. Some courageous colleagues took up this challenge. With encouraging shouts they were supported by their colleagues and in the end they all made it to the finish. A mature achievement!
Sachsen Beach
For several years we have been participating at Sachsen Beach on Augustusplatz in Leipzig. Here, different company teams meet to measure their team and sports spirit in volleyball with others.
Summer Party 2017
Our summer party always takes place within the framework of family and friends. There will be barbecue and chatting until late into the night. And even the smallest ones are always well entertained.
Company run 2017
Also this year we took part in the Leipzig company run. With bright sunshine and 26 degrees Celsius, even Peter created the best conditions for a good run.
Strategy Meeting
Under the keyword "Preferred Futuring" we spent two whole days together as a team to define our goal for the next five years. This helps us to prioritize and align our tasks in our day-to-day work.
---
You want to learn more?
Everything about jobs, Netresearch as employer and our mission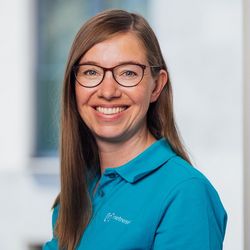 Doreen Max
CEO, Finances & Human Resources
You want to join our team?
Then don't hesitate and apply now.