Siamar Reisen is a specialist in premium long-distance travels that specializes in tailor-made offers with individual advice. What's unusual: Almost all hotels and travel regions have been personally tested and evaluated by the experienced tourism professionals on numerous trips in order to be able to give their customers the best possible advice.

We are very satisfied with the implementation of our ideas by Netresearch. Our new website is very well received by our employees and customers and was an important step towards the future. By merging our websites into one page, we can work even more effectively and efficiently on search engine optimization and present our customers with information in a more targeted manner. Fast communication channels with Netresearch enabled us to implement changes quickly and optimize processes during the development phase.
---
Raik Quakatz
CEO
Siamar Reisen GmbH
Siamar Reisen specializes in selling tailor-made trips with particular emphasis on search engine optimization for the marketing of their services. Therefore, in the past, separate websites were created for each of the 15 specialty areas and optimized for Google. This went hand in hand with extensive maintenance.
The desire to minimize this effort, to centralize the offers and thus also to strengthen the Siamar brand, prompted the company to bundle the pages in one CMS. Netresearch has already worked with customers from the travel industry in the past. Thanks to this experience and the technical know-how regarding TYPO3, we were commissioned to design and implement a new website for Siamar Reisen, which bundles all services and travel destinations.
Since most of the offers are not package tours, but rather advice-intensive, individual modular tours, customers should be encouraged to call Siamar by phone.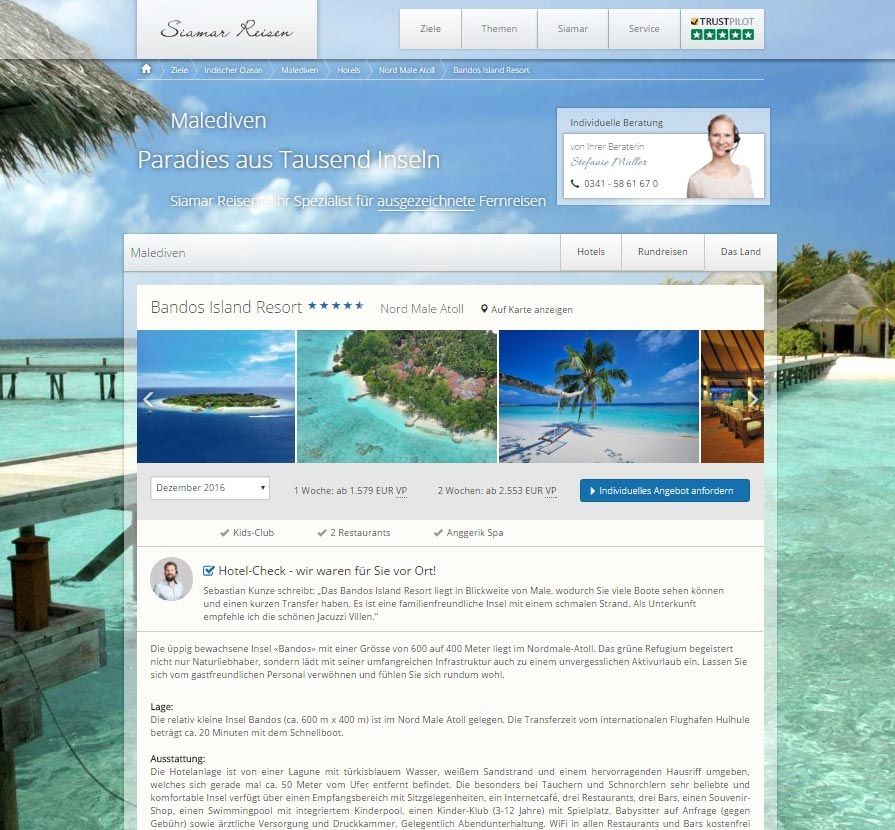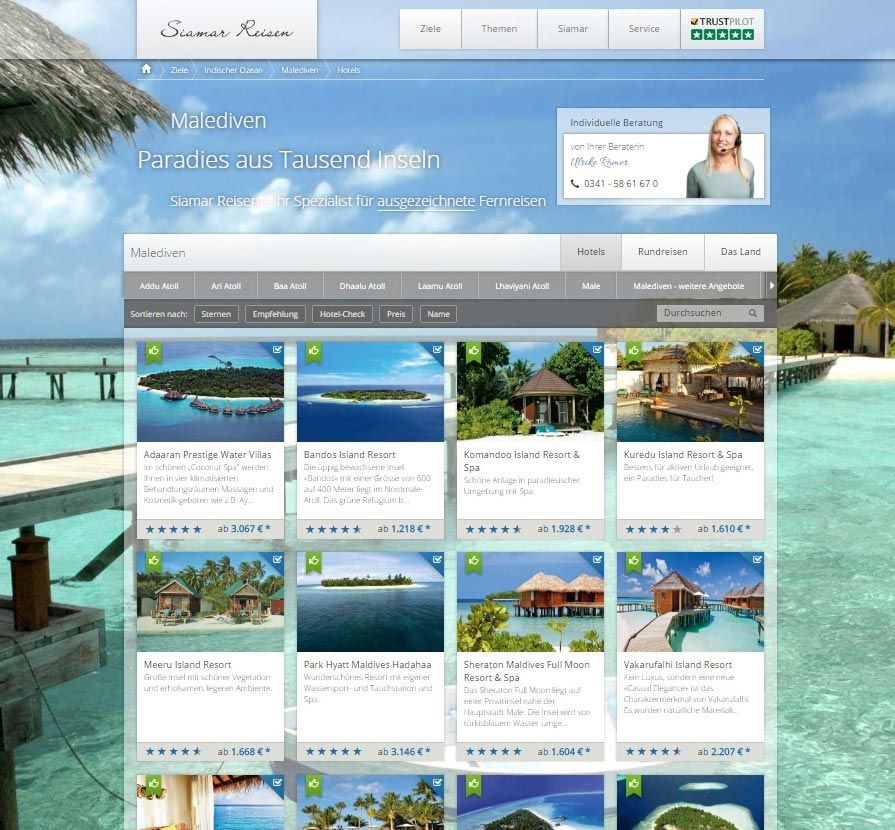 After the concept and design of the site had been created together with Siamar Reisen, Netresearch developed the website based on TYPO3 and relied on the future-proof fluid template engine for the template, which, in contrast to the expiring Templa Voila! enables easier further development. The entire template is responsive in a contemporary manner and is therefore also easy to use for mobile devices.
The existing content of the old systems, such as hotels, trips and pictures, were imported from the old database. The prices are updated once a day via an XML gateway at the customer's request.
The project was implemented in an agile way in Scrum project management together with the customer. We collected the wishes of Siamar Reisen in various task packages and estimated the effort and price. After the respective work package was approved by the customer, it was implemented in the upcoming sprint.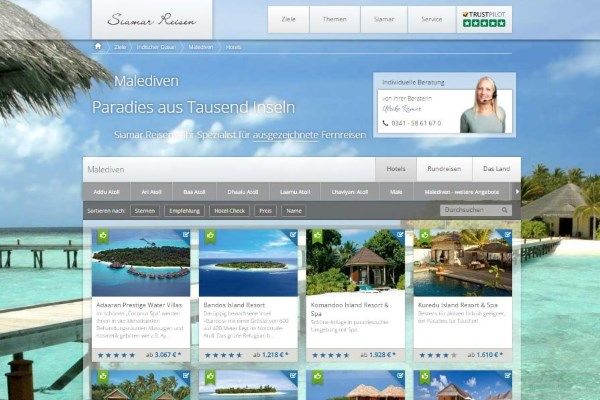 Extensive filter navigation
Various sorting functions
Trustpilot
Google Analytics
Google Tag Manager
Rich Snippets
With the content management system TYPO3, Netresearch has set up a new website for the customer, which combines and replaces 15 existing websites and the main page of Siamar Reisen.
Much emphasis is placed on usability in the design. Extensive filter and sorting functions make it easier for the customer to choose the hotel and region. Attractive imagery, helpful ratings and comments from employees arouse interest and trust. The relevant contact person is shown on each page, including a picture, name and telephone number, in order to encourage visitors to call for individual advice.
Future plans
The old main page of Siamar Reisen has already been switched off and redirected to siamar.de. At a different time, the 15 existing specialty websites will now also be shut down and forwarded to the new page. For this, all existing URLs from the legacy systems are imported into TYP03. At the same time, advertising campaigns will target customers to the new page. A constant expansion of the content on siamar.de ensures that information about hotels and travel is always up to date after going online.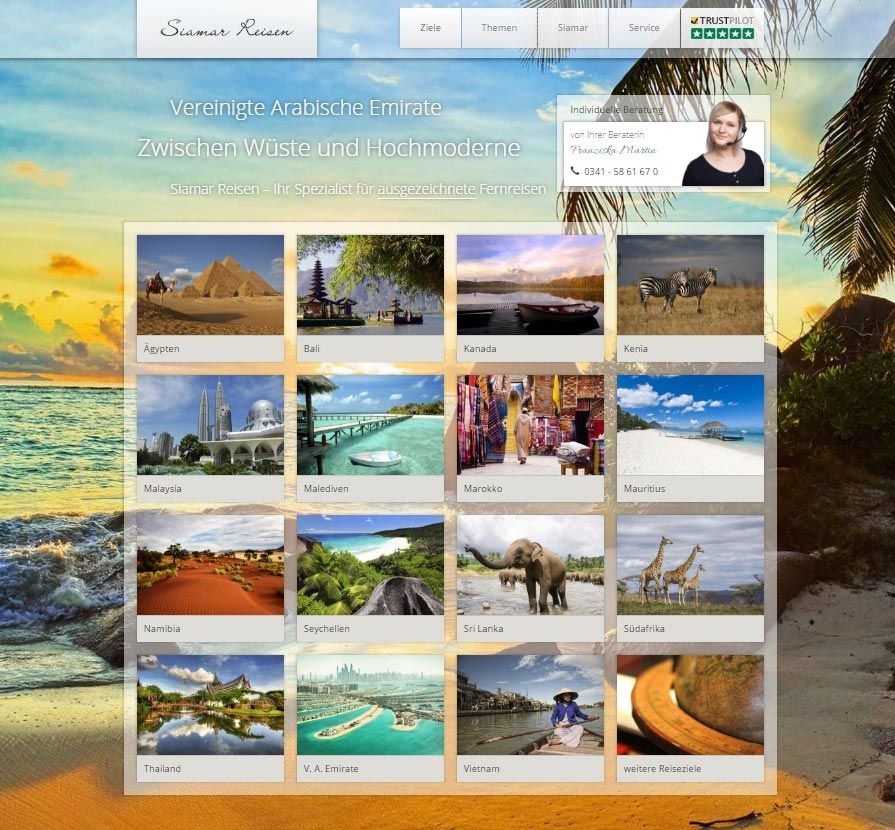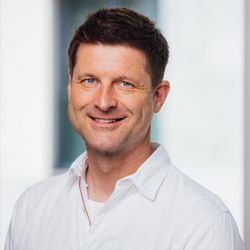 Thomas Wilhelm
Consultant web platforms,
CMS, TYPO3
+49 341 47842241
Want to know more?
Get detailed information about a project via email or in a personal talk. I'd be happy to advise you.
consulting(at)netresearch(dot)de
+49 341 - 478420